June 7, 2009
Game Development
2 Comments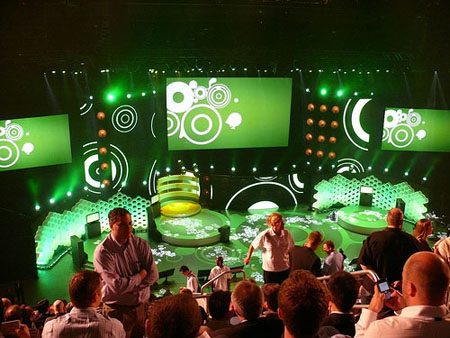 Ahhh… E3 is finally over. It was a huge E3 this year which was great. I missed the classic pig party feel of E3 and I'm glad it was back. Anyway, here's how my week went.
I flew in on Virgin since it was the cheapest fare a week before the beginning of E3. Now I'm officially a Virgin convert. It felt like flying on a limo and the price was right. Very choice. I caught "Slumdog Millionaire" on the way down from Seattle, which was a bomb-ass movie.
I met up with my buddy who lives in downtown LA. He does contract art from home in his sweet loft apartment. Ahhh, the good life. It's also great because he lives within walking distance to the convention center, near great places to eat, and near lots cool hangouts. If you're hungry, I highly recommend Bottega Louise (7th and Grand). It feels like you're walking into an elegant European restaurant. The place has amazing food and it isn't pricey.
I got my sweet all access pass for the Microsoft media briefing on Sunday then headed over to the Kotaku Party at the Golden Gopher with some Activision friends. We hung out there for a few hours, even after the free drinks dried up. I got a chance to meet some of the Kotaku guys as well. Mike Fahey was sitting in the back of the bar like the Godfather of the joint. He was super cool and always gave fair reporting on Treyarch, which I appreciate a lot. Good times were had by all, even if I was getting drilled about what I was working on and what Microsoft was up to. No about of alcohol will make me spill the beans though, I'm a human lock box! Although they knew about "Reach" the day before the briefing… hmm.