November 30, 2008
Games for Fun, Gaming
No Comments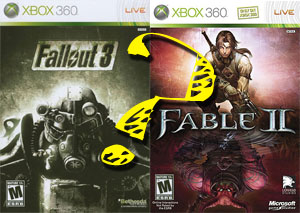 RPG sequels. One by the renown Lionhead studios (led by the insatiable Mr. Molyneux) and the other by the stalwart Bethesda studios which is a… Zenimax Media company (what?). Two very big RPGs for the '08 gaming season, both of which I just 1000pted. Which one will reign supreme?
Well, neither and both. While there are some similarities between the two, they are both very different RPGS. Fallout 3 is set in a post-apocalyptic wasteland in an alternate future with a 1950's atmosphere. Fable 2 is set in the fairly tale-ish world of Albion where swords, magic and flintlock pistols deliver justice.
Good vs. Evil: Moral Choices
The whole good vs. evil choice thing has been around for a while in RPGs but it seems like moral choices are becoming a staple mechanic. Fable 2 and Fallout 3 both feature a fairly well done morality system. As you can imagine, killing innocent people, trespassing and stealing in either game makes you more "evil" while being selfless and assisting others makes you "good". In both games, you get a visual representation of your moral standing. In Fallout 3, you get a 2D image and some text that shows your current moral standing and title. In Fable 2, you're shown through your character model. For example, your avatar might sport a halo over their head, or possibly horns if you go the evil route. Your dog companion will reflect you play style as well by looking shinier or mangier.