March 23, 2008
Games for Fun, Gaming
1 Comment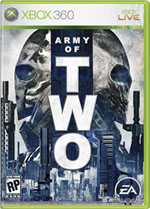 I finished Army of Two a few night ago, and decided to write a little bit about it as I'm playing it some more on co-op.
I gotta admit, I'm a huge sucker for co-op games. I like playing together with other people more than playing against them. So, here we have Army of Two, a game built from the ground up to be a two co-op player game. However, I can't say I'm a huge fan of the game. I think in general, it's a game of missed opportunities.
Let me say what I like about the game. First, obviously, is co-op. Not many games even have co-op as an option, so it's pretty ballsy to create a game that is built on the foundation of co-op. I've already played with with a couple of friends, and just being able to play with them makes the game fun to some degree. Second, I like being able to buy and upgrade weapons. I wish more shooters had weapons customization and upgrades. I also have to give them credit for making the weapons feel distinct. For example, the MP7, the minigun, the shotties, pistols, and so on, are all fun to use in different ways.
Okay, let's talk about missed opportunities.